Last August Kiddo had an event in Madison, WI, and I was killing time by sightseeing around the city on a bike. As I passed Olin Park, I noticed hordes of folks with pretzel necklaces walking toward the park. Having been to the Great American Beer Festival, I knew exactly what those pretzels signified. I later learned it was the Great Taste of the Midwest, a beer festival hosted by the Madison Homebrewers and Tasters Guild. Further research found not only was it one of the premier beer festivals in the nation, it was an extremely hard ticket to get. Ticket sales occur each spring with a limited number sold at area beer destinations and the remainder via lottery. Ticket sales are limited to 6000 with over 2/3 of the lottery requests unfulfilled. At the time I made a mental note (but not a calendar reminder) to get in the lottery in the spring.
And then forgot.
However, was pleasantly surprised on Friday when hubby walked in the house saying he was offered two tickets including a bus shuttle from a brewpub not too far from home. Did I want to go?
Duh.
The day began at Delafield BrewHaus with a Ketel One Bloody Mary and in typical Milwaukee fashion a side car of beer. This was their tasty Naga-wicked Pale Ale (Nagawicka is a lake close by), a bit of lunch and an hour bus ride west to Madison.
Again hordes of folks, lots of pretzel necklaces, some including salami and cheese. Yes, its Wisconsin. But a well organized system to get folks in quickly, ID's checked, wristbands applied, sampler glass and programs in hand.
I was surprised how well organized the entire event felt. Much more manageable than GABF, but still with more excellent beer than I'd be able to taste in one afternoon. Not just more manageable from a waiting in line for a sample perspective, but also the crowds a bit more behaved. Porta potties were ample. Water stations easy to find. Next year, tho' think I'll take a clue from folks I saw, and wear a camelbak. (Hydration is key to 5 hours of beer sampling!!) Lots of music and interesting entertainment – unsure if planned or buskers, either way great.
I tried to focus on trying things not generally available, special tappings and limited releases. I was on a quest for sours. Others in my group seemed to go for Porters and Stouts, hubby was trying a bit of everything. I've been hearing great things about the sours being made by Troy Casey, a brewer with AC Golden/ MillerCoors, and hoped some of his stuff was at the Tenth & Blake booth. Headed there first and was not disappointed! The Peche was wonderful, the Berliner Weisse with flavor bubbles tons of fun. But it was Barry White, an amazing barrel aged sour using Leinekugel BerryWeiss treated with lactobacillus and Brettanomyces then aged in oak bourbon barrels that really stood out becoming one of my favorite beers of the day. From there on a tip, we headed over the to Shorts Brewing booth to try their PB & Banana…and fell in love with their Ginger in the Rye.
We bounced around from that point on, trying special releases things from breweries we knew, and discovering breweries we didn't know. The Tripel Crown from Cumberland Brewery in Lousiville was another favorite of the day as was the Exodus from Central Waters in WI.
While food was obviously not the focus of the day, the bacon on a stick from Smoking Cantina was to die for. There was a small food court (pizza, italian beef, sub sandwiches) in addition to the Smoking Catina booth, and tons of picnic tables to stop and rest or eat a bite. (Oh look there's Brook and Kyle! Thanks guys for the invite!!!!)
Equally to die for were the views across Lake Monana. Madison is not only the home of the University of Wisconsin it is also the capital, and the Capitol is visible across the lake.
All in all a great day. Grabbed a nice full pour of Triple Crown from Cumberland (others in the group were raving about their Coconut Porter), and headed back to the bus.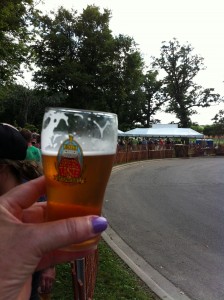 And, yes, I have a reminder in my calendar for next year's ticket sales…..