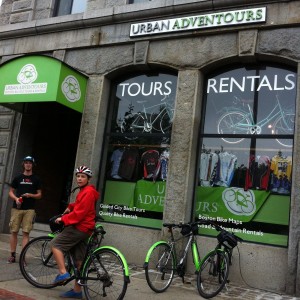 Naturally once I knew we were visiting Boston, I began searching for information on biking around the city. I was pleasantly surprised to discover the city has a website emphasizing the importance of bike friendliness as critical to Mayor Menino's vision for a vibrant and healthy city that benefits all its citizens. There's a bike share program with tons of kiosk locations called The Hubway.
Seeing all this, I knew we needed to work riding into our plan, and decided we'd rent bikes from Urban Adventours. They are a bike shop in the Long Wharf area that offers both bike sightseeing tours and 24hr bike rentals. Rentals include a lock, helmet, and excellent bike maps. Just in case, I opted to rent a flat kit, as we both can change flats. Thankfully, however, we didn't need to, but better safe than sorry, right?!? I'd made reservations on-line, and had even gotten a call confirming times, sizes, etc.  The on site staff was equally helpful. Adjusting seats, giving us hints and tips. We picked up the bikes Thursday morning around 11am, returned them the full 24 hours later.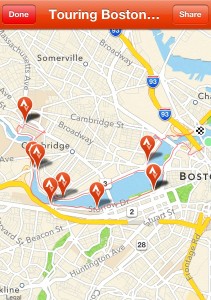 For our first day of riding, we followed their suggested route along the Charles River. Leaving from the shop and ending at our hotel we rode 15 or so miles along this route which they suggest for families, as it is nearly all on off-street paved bike paths. The route follows the Boston side of the river out past Boston University, crossing the river at Harvard University into Cambridge. The return is on the Cambridge side past both Harvard and MIT into Charlestown. The path on the Boston side of the river was more heavily used, but not to the extent it caused any issues or concerns (unlike my recent ride along Chicago's lakeshore path that was crazy busy).
Small parks dot the path, which has minimal street level road crossings, esp. on the Boston side, usually the path goes under the road along the river. Once to Harvard, we left the planned route to stop for lunch at City Sushi and then tour Harvard by bike and by walking our bikes around Harvard Yard (lots of signs there reminding you to dismount).
Click on any picture or collage for a larger version.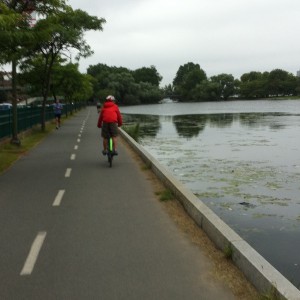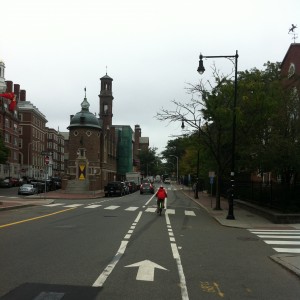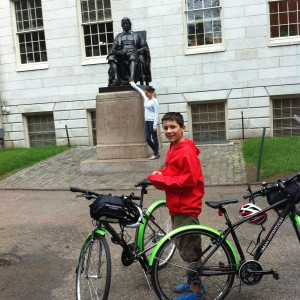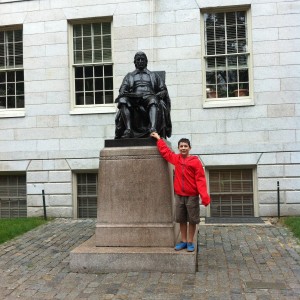 Naturally, Kiddo had to get his photo taken touching the now shiny left foot of the Harvard statue. This is a popular activity, we had to wait for in line behind 10 or so others.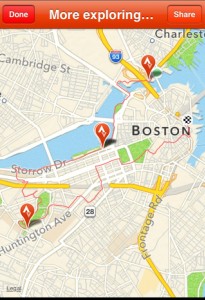 Stored the bikes overnight in our hotel room (Yes, you can do this. I do it all the time. Just walk confidently through the lobby onto the elevator with your bike. No problem!) On Friday morning, we followed Urban Adventours "city view" route. This route starts on the Charles river path of the previous day but then is nearly entirely on city streets. However, Urban Adventours has done an excellent job of designing the route to keep you on roads and streets with bike lanes, sharrows and where possible less traffic.
We rode around Boston University, Fenway Park, The Christian Scientist Plaza and much of the area on the south end of the Freedom Trail. Kiddo did an incredible job riding in traffic. Followed the rules of the road. Rode confidently but predictably. This route has tons of turns, so I kept the map handy, and stopped often to check where we needed to go (and a couple of times how to get back on track). This route is great – but probably best for folks used to riding on streets and with confidence in their bike skills. In total we rode about 13 miles more or less following this route.
One of the most pleasant surprises was the community garden area in the Back Bay Fens.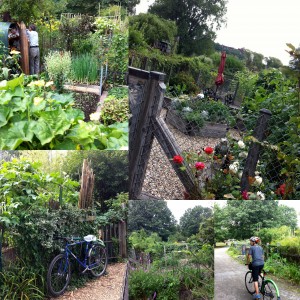 Along both routes, we made stops to explore and play in the parks. Both sides of the river had fitness parks, even a small zip line.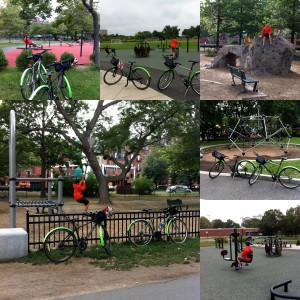 Bikes give you freedom to explore at a more human level. You can cover plenty of ground, take frequent breaks and see the city at a slower pace than by car or bus. I highly recommend adding to your trips…and in Boston Urban Adventours is a great option to do just this.
There's also a post about our walking the Freedom Trail here. And here's the full photo set of our Boston visit.