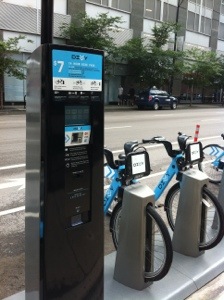 I love bike share programs. As someone who adores being able to tour a city by bike, or sneak a quick ride into a business trip, they provide a great option to me. I also think they help embed the idea of using a bike as transport into many people who wouldn't think of them as such. I love when I hear about another city adding a bike share program, be it New York City or here in Milwaukee, and hope the concept becomes the norm in all cities.
It was sad when the B-cycle experiment in Chicago ended after a single season a few years back. Due to that and my frequent visits there, I've been following the news and buzz about Chicago's new bike share program called Divvy Cycles. I was excited to give the system a try during this week's business trip to Chicago.
I thought ahead to bring my helmet (personal preference, saw tons of people on the bikes sans helmets all around the city).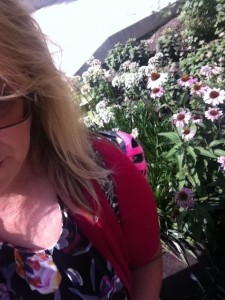 Having downloaded the Cycle Finder app to my iPhone, I headed from my hotel around 5:30pm to the Divvy station at Grand and Fairbanks Court , which was the nearest station and had 11 bikes available. The touchscreen on the rental kiosk seemed very slow to respond, and kept looping back to the initial language choice welcome screen. Finally it asked me to "dip my card" (swipe my credit card), and began to process. And process, and process. Back to welcome screen. One more try, same thing. A young man came up, tried with his credit card. No luck. Said same thing happened previous day. App in had we both headed to the station at Illinois and McClurg. This time we both got a screen with an error message suggesting we contact Divvy via phone.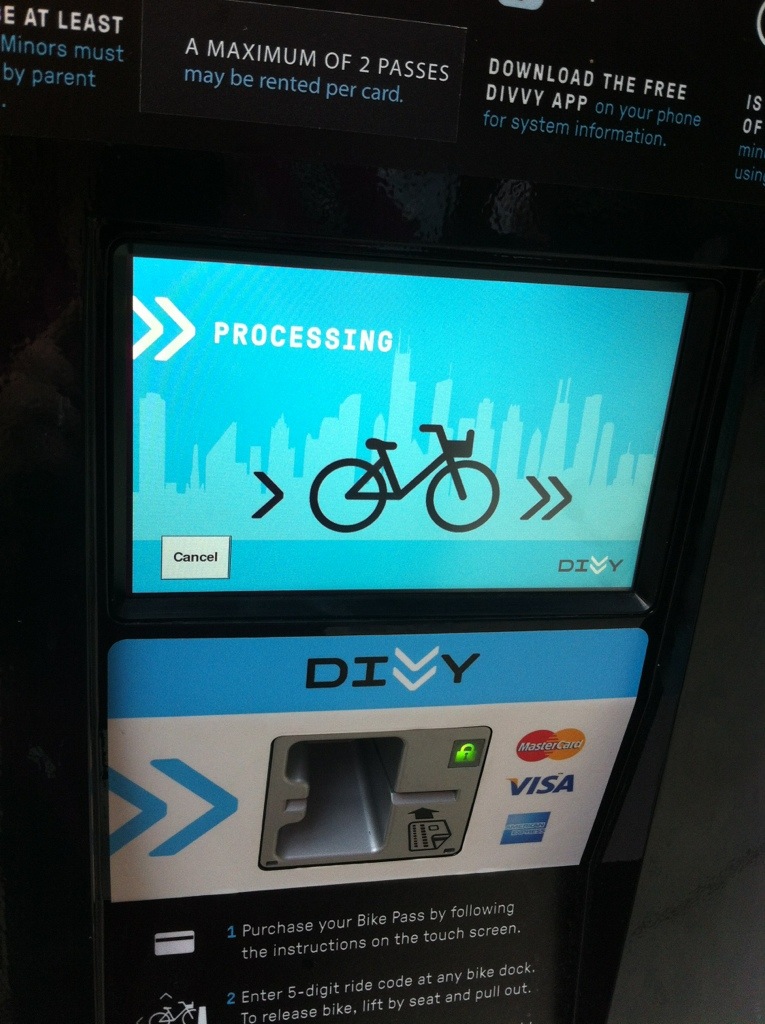 Divvy's customer service rep told me that machines often time out, and to try again, try another station, or come back another time. No exactly helpful advice. Off to the next station at Illinois and Streeter. Same thing. Although here we did see a person successfully take out a bike – but using a credit card already in the system. By this time, between the other guy and I we had tried 4 different credit cards at 3 stations, multiple times.
I had planned the stations with a Plan B in mind, as I was determined to ride a bike. Off to Bike & Roll at Navy Pier to rent a "fitness" bike (a Trek 7.2). A more expensive option, but at least an option.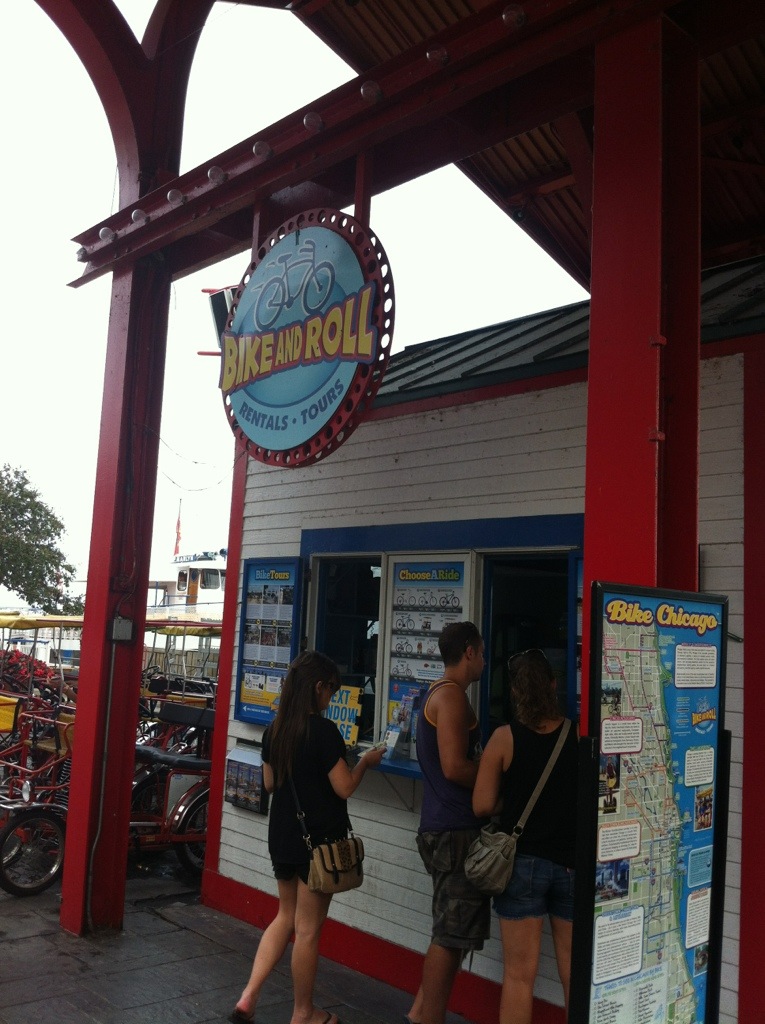 My plan of touring around the city for a couple of hours from Divvy station to Divvy station swapping bikes every 30 minutes, turned into "go for a long ride along the lake". Off to the Lakefront Trail I went. Which was PACKED. Still was a great ride. Navy Pier is roughly in the middle, and I planned to ride the entire 18 mile length for a 36 mile round trip ride. First headed north to the zero Mile marker at that end.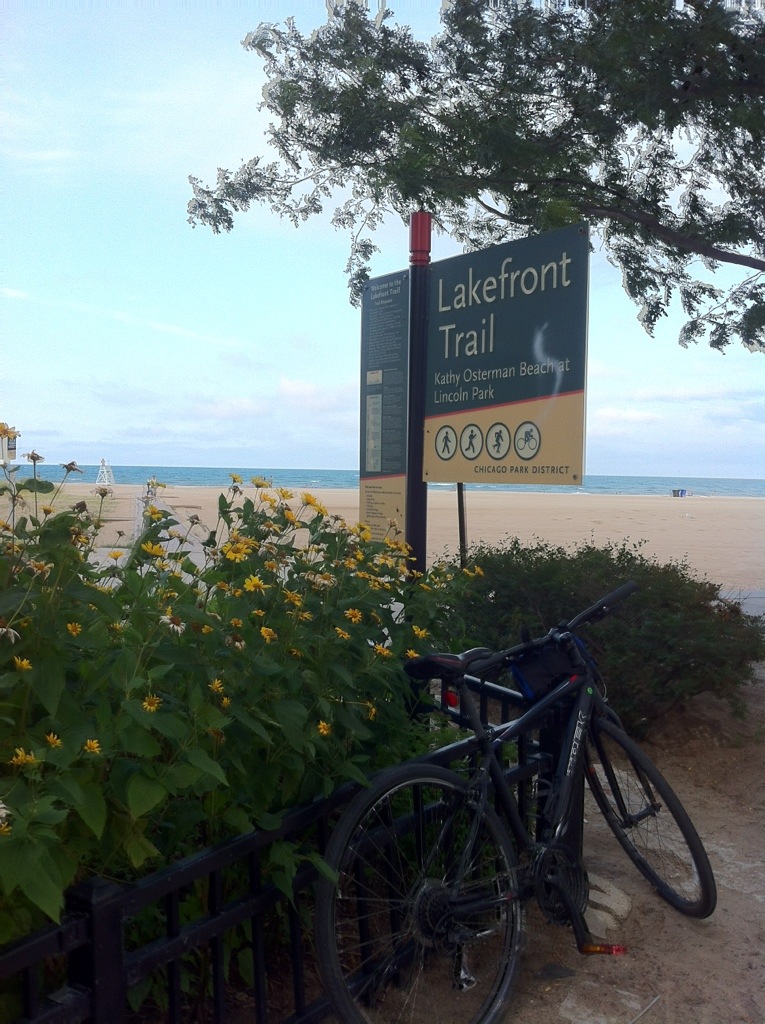 About 15 miles in, I paused at the Ohio Street Beach to eat an apple, and watch the swimmers train along the breakwater. As a former competitive swimmer and lifeguard, I've always been fascinated by these swimmers – water is so cold.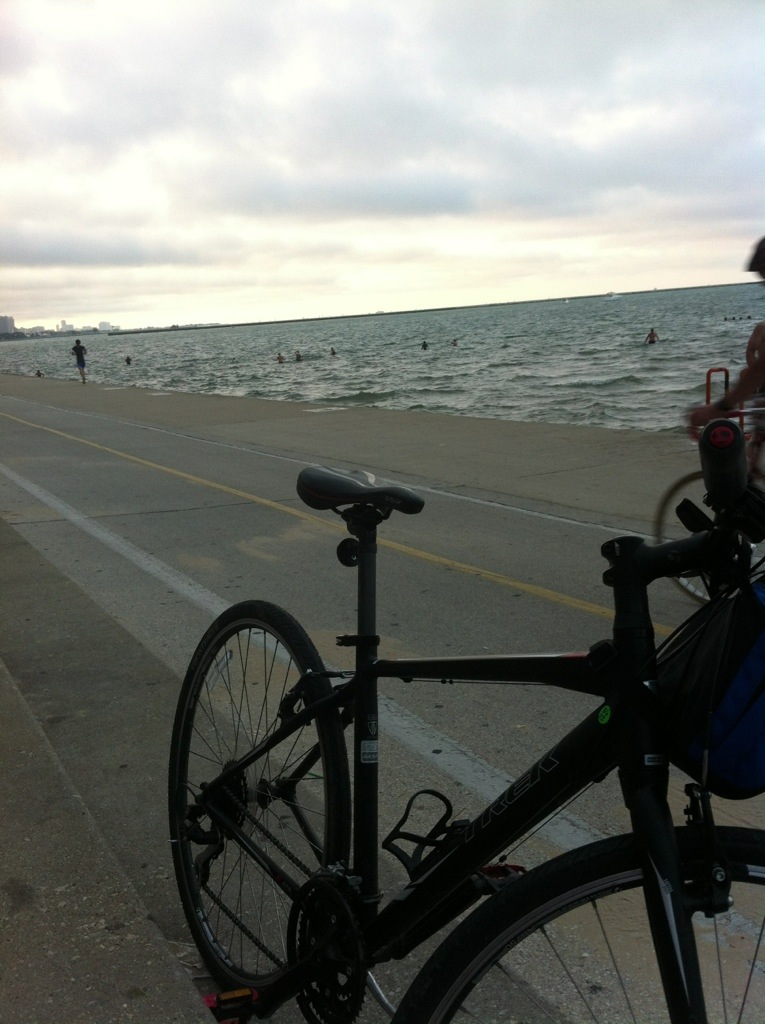 Shortly after passing the Shedd Aquarium, my phone rang repeatedly. Again and again. Enough that I couldn't ignore. It was Bike&Roll calling to warn me of an incoming storm and requesting I bring the bike back ASAP. Turned around at the 10mile southbound marker, making my ride an even 20miles. Was sad I couldn't do the entire length – but realize even though no storm appeared, the crowds had slowed me so much that it would have been very dark when I made the trip back from the 0 marker south.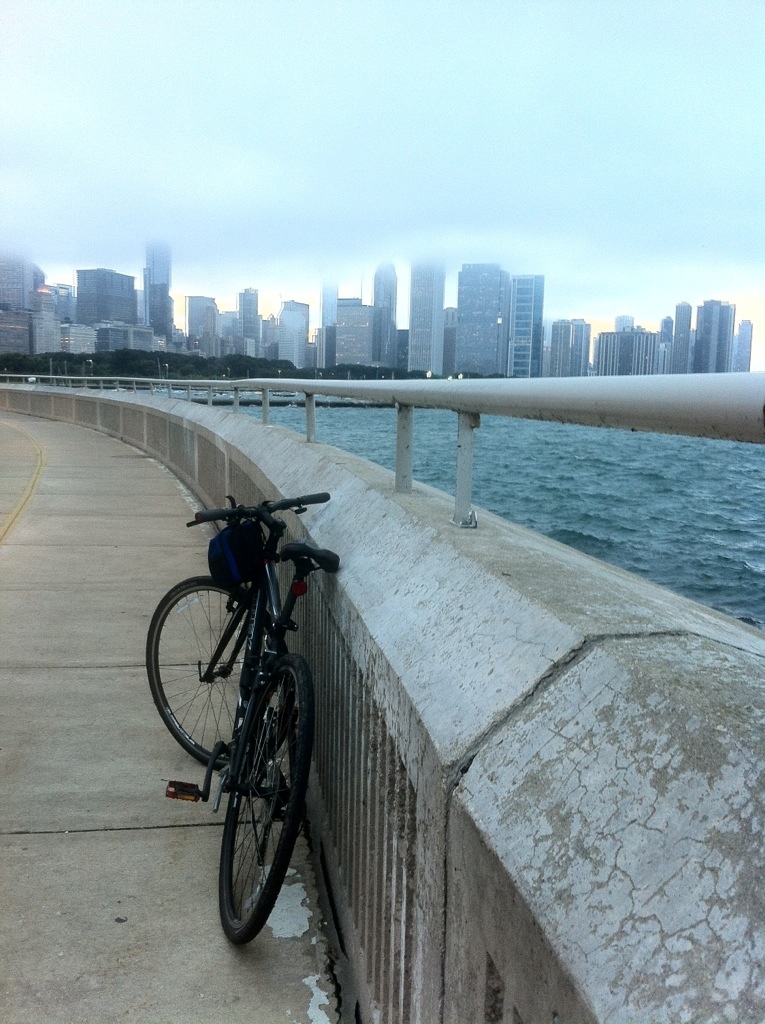 A couple of notes about the Strava from this ride. First, the elevation map (or lack thereof) makes me laugh…so much grey space with the tiny bumps at the bottom, but seriously, 0 feet gain, I don't see a flat line. ;-). Secondly, it makes me sad to see there were 43 visible segments in this 20 miles and 27 hidden segments. This is a very, very crowded path with bikers, runners, walkers, dog walkers, rollerbladers, skateboarders and clueless tourists peering through cameras mid path. This is not a path to earn KOM/QOM. Tracking mileage is fine. Going for record speeds, dangerous. Don't be a Stravasshole