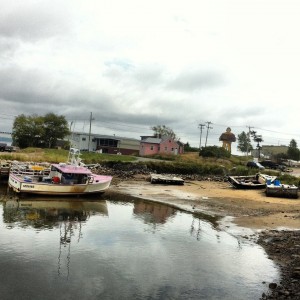 So do you have to tag blog posts with a #latergram or #whythehelldidittakesolong or #delayedpost type hashtag? Because I seem to not get stuff written in real time, and then never get it written because I feel guilty or weird or something for not posting promptly. Anyway….
Over Labor Day, my niece was married in Maine. The trip to celebrate this marriage was the real reason for our trip to Boston. I grew up in a family which traveled often (in the road trip style that was the norm back then). Between lots of childhood trips, business trips and the love of travel my parents instilled in me, I had been to 47 of the 50 US states. Alaska, New Hampshire and Maine remained (haha that made me laugh) to be conquered. The drive from Boston ticked off NH into the been there done that check off the list column, while Maine made me want to return. Even if the drive from Boston seemed never ending, who knew Maine was such a long state.
The wedding was in the small town of Winter Harbor, a coastal village in the Arcadia National Forest area. The coastline here is stunning due to the rocky nature. We knew we wanted to explore by bikes, so one of the first things we did was ask the Innkeeper for recommendations. She suggested Seascape Kayaks in nearby Birch Harbor. It was a good thing we stopped by on Saturday morning, as they are closed on Sunday. The owner graciously offered to size us to bikes and helmets, and leave them in a rack for us to grab on Sunday.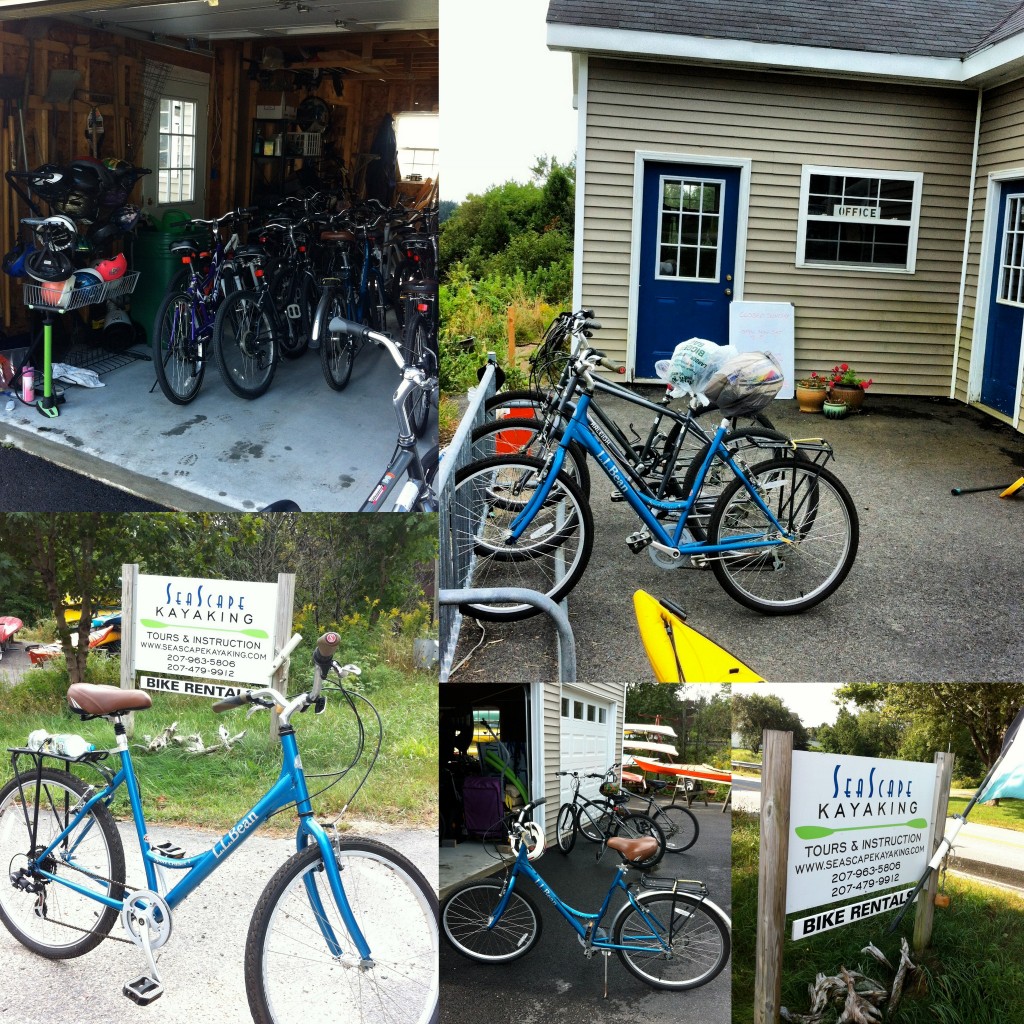 After securing the bikes we used the rest of the morning before the wedding to explore the island, and take in the beauty of the shore. I was taken with the rock seams between the sparkly speckled granite and the black rock.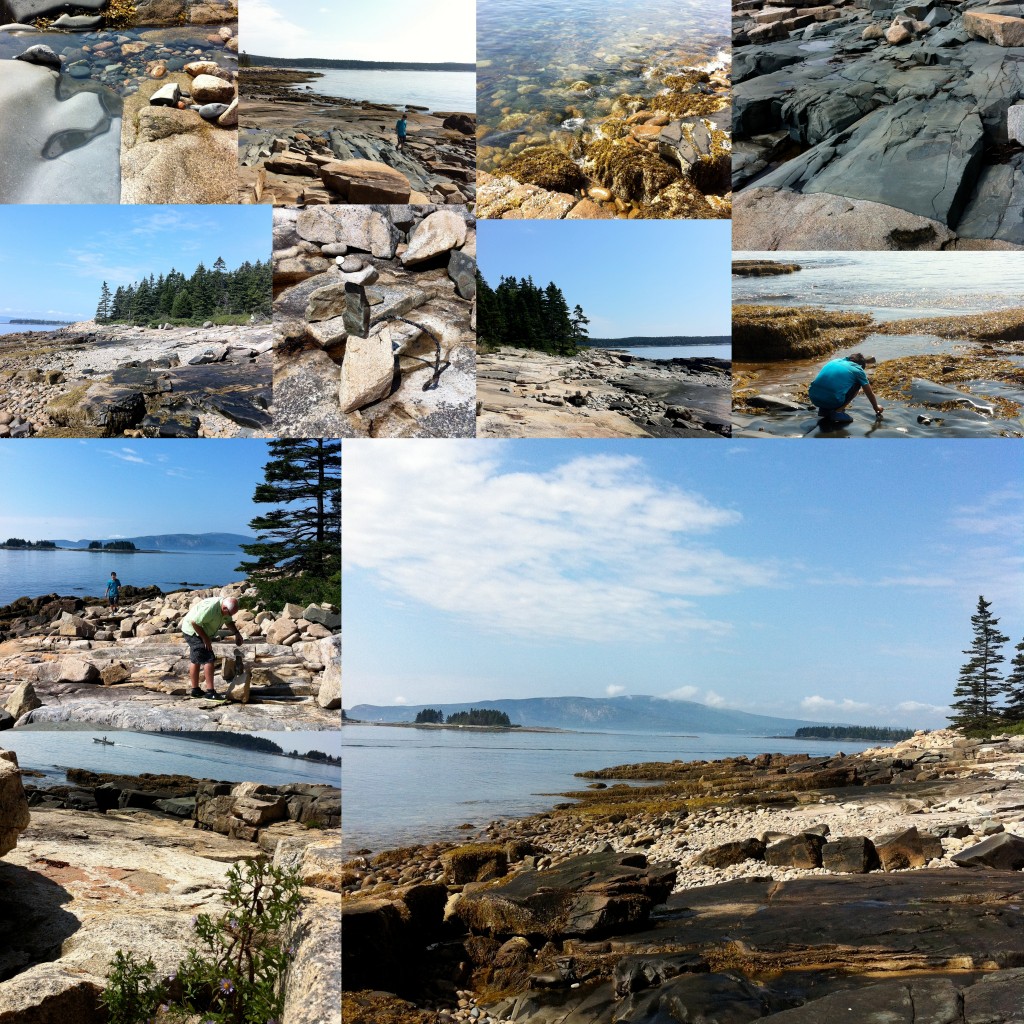 The wedding was beautiful, the bride gorgeous. Kiddo's sister and her Mom were in from Maryland. As was Hubby's brother, the father of the bride. It was great to all be together to celebrate. From the gift bags in our room to the thoughtful touches like dancing shoes, bug spray and a pre-planned hashtag it was evident much thought and planning had been put ino e event. They even sat us for dinner with another cycling couple!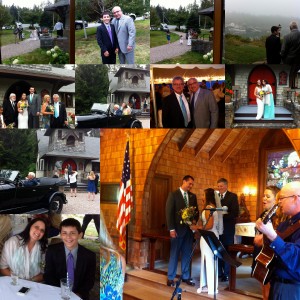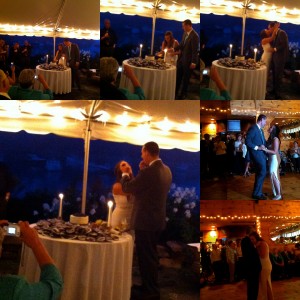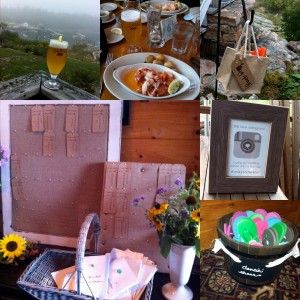 Sunday began with a wedding brunch, and then our chance to bike tour. Seascape Kayaking is perfectly situated along the 12 mile loop around the Schoodic Peninsula. Nearly half the route is in the one way Park Service road which has several options to stop, picnic, use the potties and take in the views. We even saw a porcupine along the ride. A first for me outside a zoo. Kiddo loved exploring and climbing the rocks along the shore.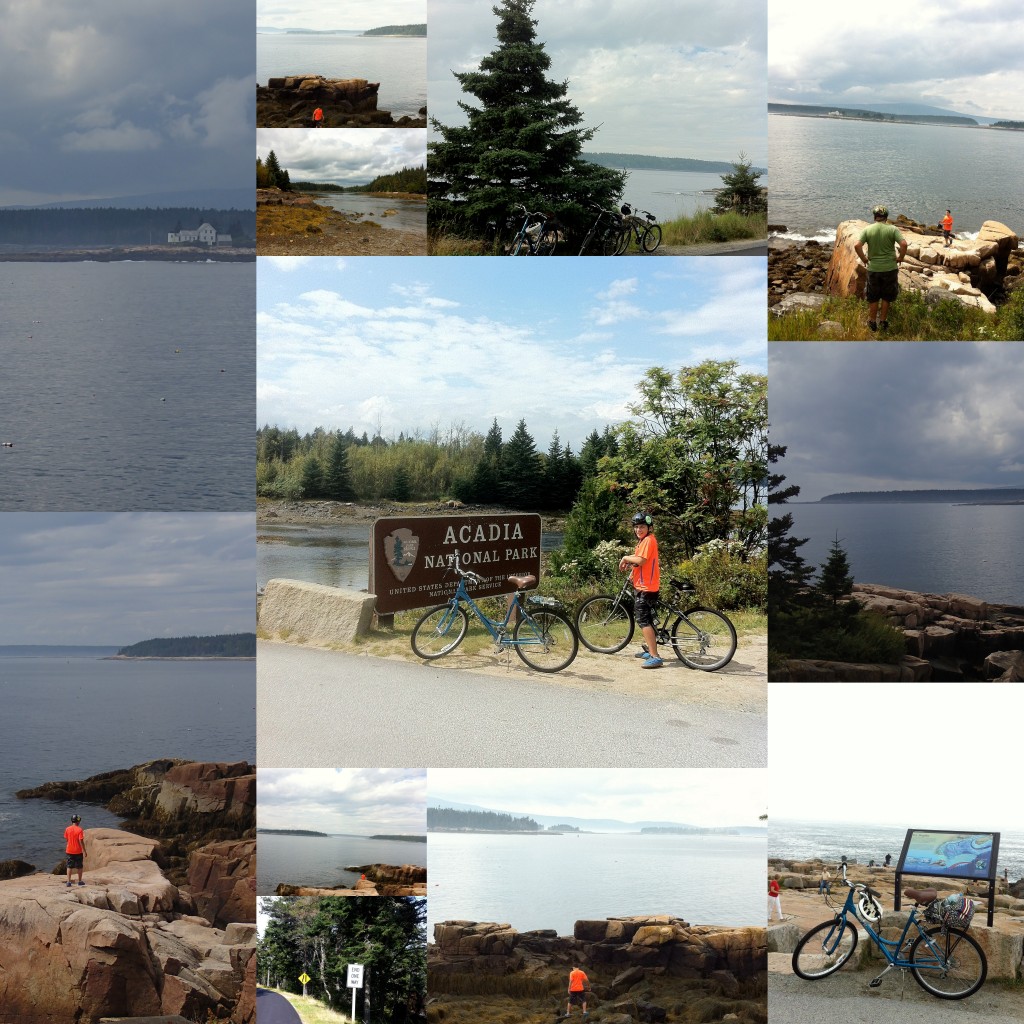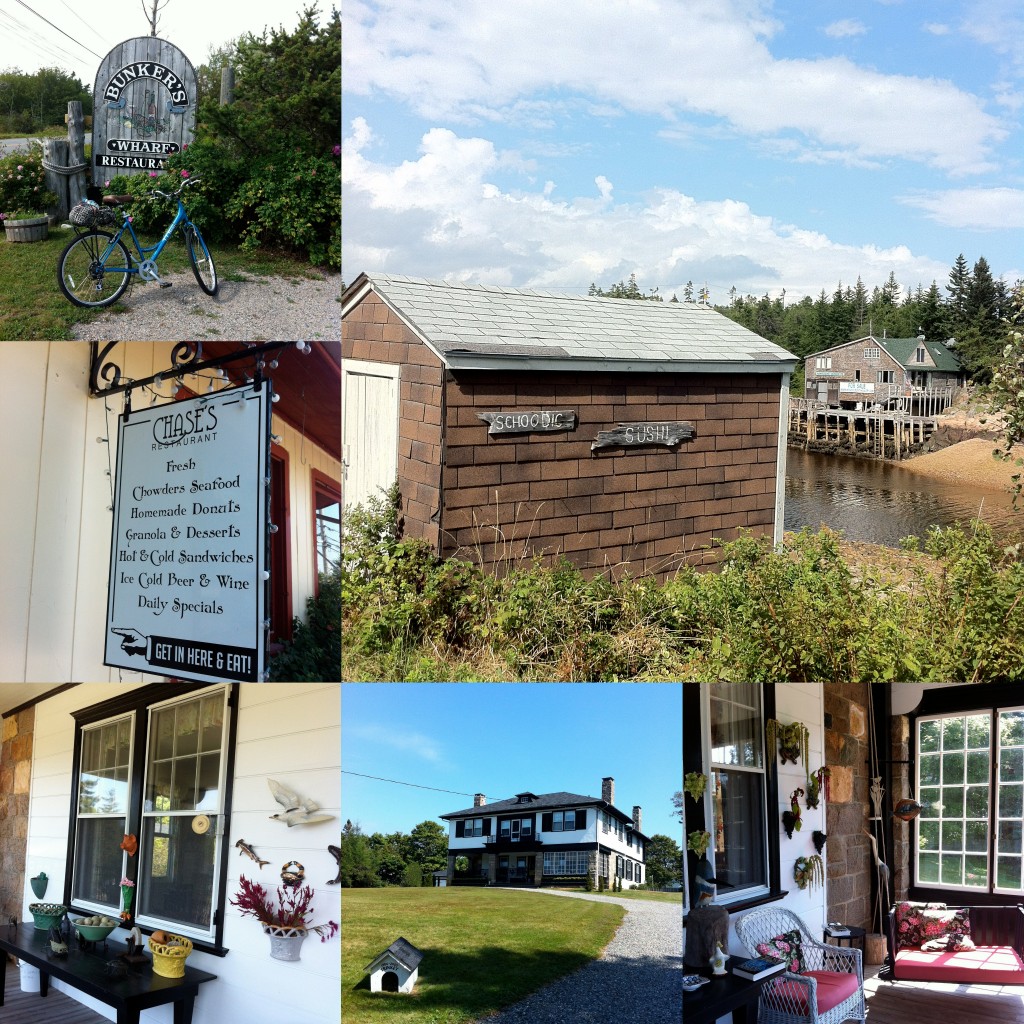 After returning the bikes, we drove over to Bar Harbor to look around and grab a bite to eat. Naturally I searched out a brewery for this.Atlantic Brewing and Mainely Meats was our stop. Recommend both for a visit!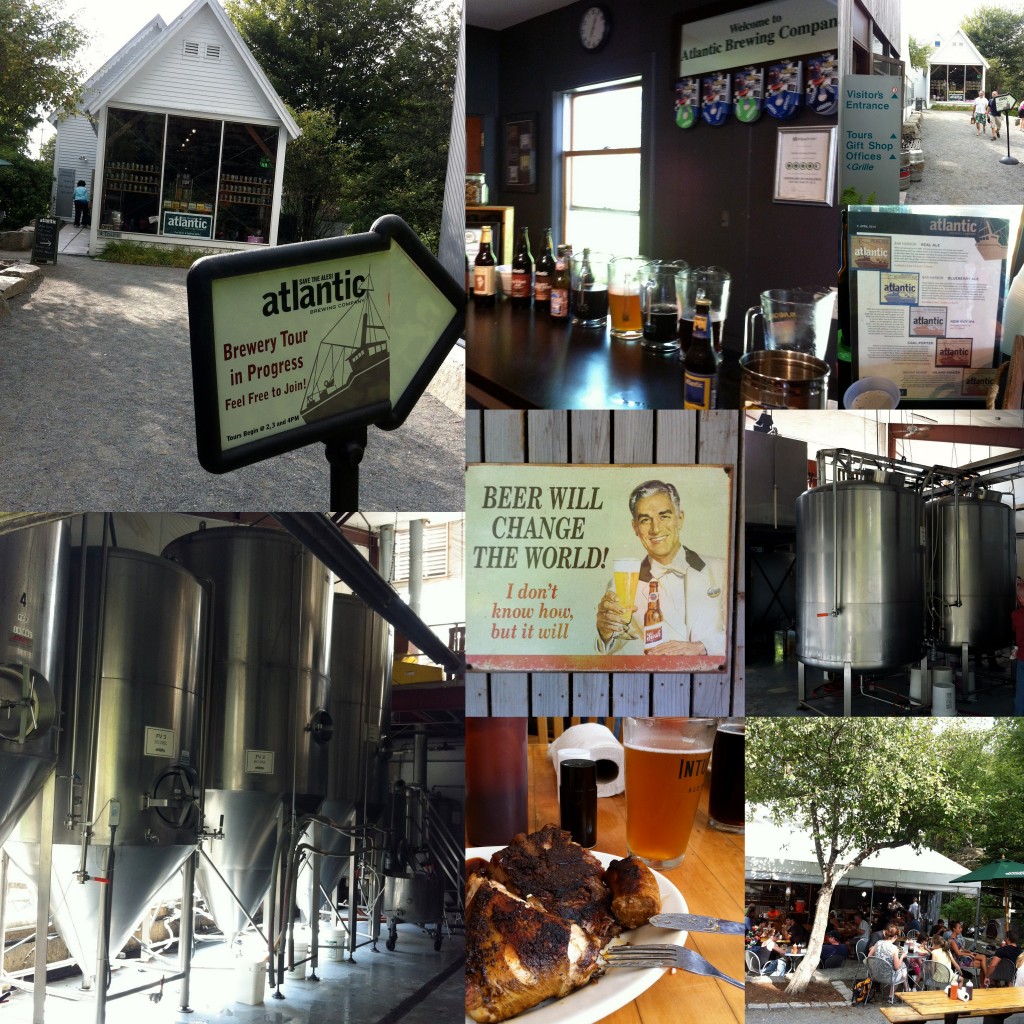 We stayed at a charming bed and breakfast in Prospect Harbor. Gracious hosts. Great food (even accommodated my gluten free requests). A wonderful option if you're in the area. I can't wait to go back!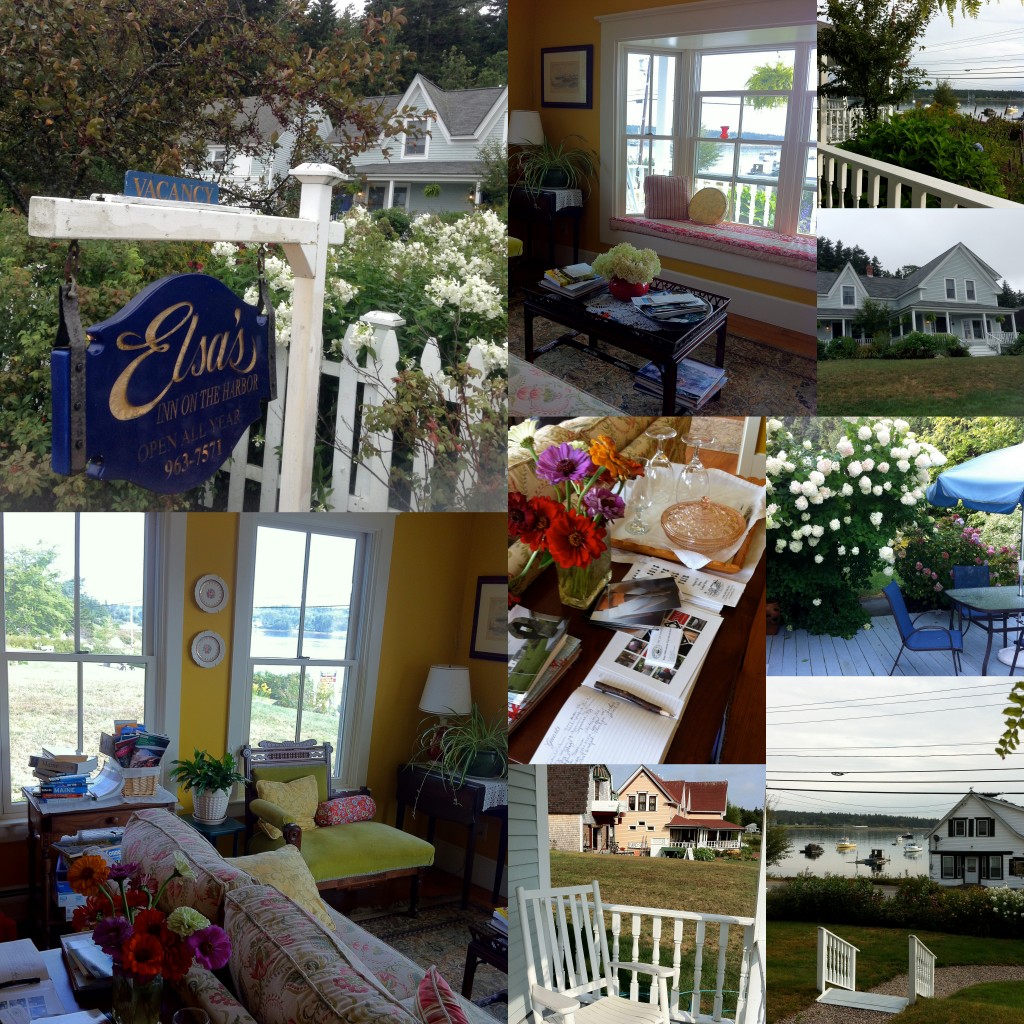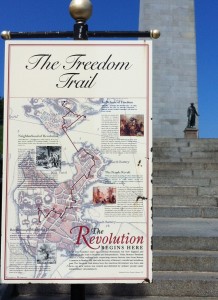 While this famous saying originally described the meaning of the lanterns Paul Revere hung in the Old North Church, it also sums up great ways to explore Boston! Kiddo and I had the opportunity to spend a couple of days here as part of our trip to Maine for a family wedding. It was the first trip for kiddo, and while I had been here on a business trip in the 90's, I hadn't really explored. This post describes how we toured by land (walking) and sea (water taxi), there's another about touring by bike here. And here's the full photo set of our Boston visit.
Given its rich history and the short timeframe of our visit, I wanted to maximize our sightseeing, and develop a bit of a game plan. Prior to the trip I did a bit of research on sights to see…checking in with the googles, social media friends and of course, my well traveled mother and brother. All sources said we must do the Freedom Trail, a three mile long planned route that covers 16 of the major historical sites and monuments. Fortunately our hotel, the Residence Inn Tudor Wharf sat on the Freedom Trail where you cross the Charles River into Charlestown.
I also discovered in my research there was a water taxi from the airport over to the Inner Harbor. Generally $10 per person from the airport (kids appeared to be no charge) a slight bit more, the taxi driver, er, boat captain agreed to go beyond the inner harbor and take us to our hotel after he made the 3-4 stops within the Inner Harbor to drop off other passengers The water taxis do not run on a set schedule or route. There are free buses from the airport terminal to the ferry landing. The route is then determined by where all the passengers need to go. On the city side, passengers can call for the water taxis via radios at each ferry stop. The day was perfect for a trip across the water and the trip really helped get us orientated to the city. (click on any of the pictures or collages for a larger version).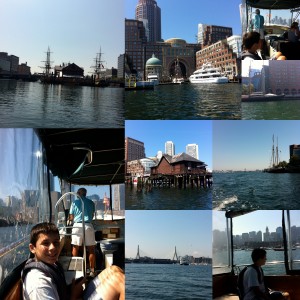 After dropping our luggage at the hotel, we took off to explore the Charlestown portions of the Freedom Trail. FIrst stop was the USS Constitution, aka Old Ironsides. We were surprised by the level of security entering the museum and ship area, but quickly discovered why. The Constitution is the oldest commissioned vessel in the US Navy, and is still an active commissioned ship. In other words we were entering a US Naval facility. All tour guides were active duty Navy wearing the first official uniform of the navy. Very cool. This free tour is well worth a visit!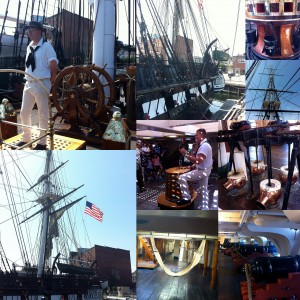 After leaving the ship, we began to follow the red brick trail up Bunker Hill. As we walked through the quaint streets, Kiddo began telling me the story of Bunker Hill he'd studied this past year in 7th grade social studies. Bunker Hill marks the first major battle of the Revolutionary War, and where the famous, "Don't shoot until you see the whites of their eyes" phrase originated. The site is marked with a 221 foot granite obelisk…which contains a winding staircase of 294 steps to the top. Which we climbed, and climbed, and climbed or so it seemed. Great views from the top. Again no charge to visit, tho' at each site we did leave a couple of dollars in the donation bin.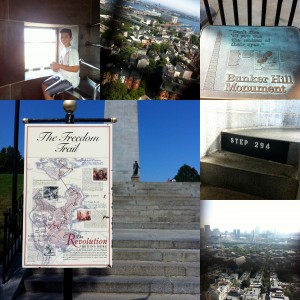 We crossed the Charles RIver and began to walk the parts of the Freedom Trail in the North End, otherwise known as Little Italy. The trail is easy to follow as it is marked with a strip of red bricks, streets even have a red strip where you should cross. All along I was taken with the window boxes, gardens and foliage. We continued down the trail in the morning on the way to pick up bikes from Urban Adventours (more on that in another post). This is when we toured the Old North Church (home of 1 if by land, 2 if by sea), wandered the Copps Hill Burying Ground, and visited Paul Revere's home. The North Church is free to visit (again leave a donation) but there is a small charge ($3.50 per person) for the Paul Revere home. Unfortunately no photos were allowed in the period furnished house.
Behind the Old North Church was a memorial garden for servicemen and woman who lost their lives in the Iraq and Afghanistan wars. Touching.
Kiddo loves ghost tours, so at his request we made reservations for the Ghosts and Gravestones tour. What fun. Spooky costumed guides tell stories of Boston ghosts, apparitions and of course, the Boston Strangler as we travelled through the city in an open air trolley. Kitty Havoc, our guide, led us on walking tours during the two stops to visit graveyards included in the 90 minute tour. Kiddo even got to be part of a reenactment at the second graveyard. Reservations highly recommended. There is a small discount for booking on-line. $39 per person or there about. I'd probably not recommend for the young ones, but 12 and up will find it all a hoot. Or Howl…..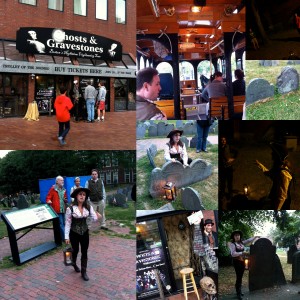 Naturally all our walking, biking and touring made us hungry and thirsty. The first night we didn't get far into the north end as we were tired and hungry and ended up eating pizza at Regina's Pizzeria, who say they are the oldest pizzeria in the northeast. It was wonderful, and they had both Blue Moon and Peroni on tap, so bonus! I had a chicken sausage, sun-dried tomato, basil and garlic pie, Kiddo pepperoni and black olive. Fortunately the hotel had a fridge for the leftovers. The second night was dinner at Boston Beer Works on Canal, where of course I had a beer flight. Our final lunch, including some yummy oysters and fish and chips was along the Quincy Market at Salty Dog. FInally as we left to pick up hubby from the airport, we grabbed cannolis for the road from Mike's Pastry (oh so good…especially the plain and limoncello ones)
I'll cover our touring by bike in my next post…….
Or payback is hell.
But the brilliant thing is that the flip side to bad karma coming back and biting you in the ass is that sometimes getting what you deserve or earned is a good thing. And that appears to have happened to my son and I this weekend.
Last December armed with our first ever Disney annual passes, my son and I had a 5 day pre-Christmas trip to Disney World planned. This grown-up but kid at heart Disney fanatic has always wanted to see the parks and the resorts in their Christmas finery. Each day was well planned with dining reservations, carefully researched park plans to avoid the "extra magic hour" crowds, not to mention a list of shows and resorts to visit. And then the great snow of December 19th hit Milwaukee. Closing the airport. And for the next 2 1/2 days my very patient 9 year old son and I were in airport stand-by hell. Somehow our Friday 6am direct flight turned into a 7pm Saturday connecting flight through Atlanta. We tried to stand by on every flight in between. No luck. And then of course, our flight to Atlanta was delayed and we found ourselves stuck in Atlanta, a city we never planned to visit for the night. Sunday morning brought more stand by flights, and a melt down and tears from the grown-up, and continued brave face from the 9 year old. Finally at 2pm Sunday, 62 hours later we were in Disney.
And I swore I would make it up to my son. (OK, yeah, me too) Upon returning home, using frequent flier miles, timeshare points and of course knowing we had annual passes, I booked a Halloween trip back to Disney.
From start to finish this trip was a dream. Flights going and coming were on time. Car rental no line, no problem. Sure a 6am flight made an awfully early start, but we managed – and boy, did we manage getting all the highlights done.
Some of the highlights: While the parks were fairly crowded, it was primarily Food & Wine Festival attendees and folks with young children. Which meant lines for the attractions requiring folks to be over 40″ tall were not bad, not bad at all. So much so, we hit all our favorite rides, most with literally no wait. On rides like Everest Expedition, Test Track, and Rock-n-Roller Coaster we employed single rider strategy. If you aren't familiar with this, some rides have a third line in addition to the normal line and the fastpass line. You will not be sitting with your party as they use the singles to fill in the odd numbered groups. However in most every instance we were in the same "car" or train or whatever that is called. Others, such as Tower of Terror (my #1 fav ride) simply had no waits.
You could ride them as fast as it took to walk through the queue. All said in our three days, the final tally was Everest Expedition 6 times (son did 7), Tower of Terror and Big Thunder Mountain 5 times, Test track 4 times, Splash Mountain, Kali River Ride, andStar Tours 2 times plus a trip on the Great Movie Ride, The Backlot tour, Soarin', Maelstrom, Mission Space, Haunted Mansion, Pirates……Oh, and I got to be one of the "actors" in the Pearl Harbor scene on the Backlot tour!
Of course, I had to get my fireworks fix. The first day we were worn out from our 6am plane flight and considered skipping fireworks. Instead we headed to Beaches and Cream for burgers and ice cream. Remarkably we had no wait for a table, and finished dinner just in time to walk in the back entrance of EPCOT and snag a great view at a spot between USA and Japan. The park was crowded but somehow, just as the announcer blew out the fires, there was a two person opening along the fence. The next night was Mickey's Not So Scary Halloween party where we enjoyed Halloween Wishes from our fav spot front and center of the castle. Finally the third night, son wanted to repeat the Beaches and Cream / Illumination plan. This time we scored a spot between China and Germany with a perfect view of Illuminations but also a goo view of Wishes just to the left of Spaceship Earth – huge bonus for this fireworks lover.
One of my favorite memories was the morning after Mickey's Halloween party, when my son in all seriousness asked, "Mom, did you feel like a kid again last night?" I replied, "What do you mean?". "well, you were wearing a costume and went trick or treating". And, yes, he was right, I did feel like a kid again, and both he and I thought that was pretty darn cool.
Finally, in keeping with family tradition of documenting our accommodations. Shots from the 1 bedroom unit at Wyndham Vacation Resort at Bonnet Creek. I own a decent amount of points in the Wyndham timeshare system (all purchased on eBay, which is a whole other story). Their new resorts are quite nice, and the point system allows me to book 3-4 night long weekends. (Like the one in November to Wyndham Glacier Canyon at the Wisconsin Dells or the December weekend at Wyndham Grand Desert Las Vegas – which will include doing the Rock-n-Roll Half Marathon. The location of this resort is pretty incredible – within the World, next to the Caribbean Beach Resort, very close to EPCOT, the Boardwalk and Hollywood Studios. Will return to this one!