Paleo / Primal On the Go. Grand Rapids 01142014
January 16, 2014
One of the things I'm plan on being very conscious of in 2014 is the choices I make around food and fitness, more fully live the "paleo lifestyle" of what I eat, how I sleep, lifting heavy things, managing stress. A key to this is making better and more mindful choices as I travel. Recently, a Facebook friend asked how I manage paleo eating while traveling. From that question, I realized I could force myself accountable on my trips via this blog. I would not only make better decisions, and might help others as they tackle the same decisions and choices.
My plan to is capture what I eat and drink along with how I handle (or avoid) activity, fitness and workouts while I travel. As you read these posts keep a couple of things in mind. First and foremost, I am not, nor ever will be 100% paleo compliant. I routinely use heavy cream in my coffee and enjoy butter. At home I stick to grassfed dairy. On the road this is difficult. I avoid all vegetable oils at home, sticking to butter, ghee, olive oil, tons of coconut oil, palm oil, and bacon grease in cooking. I make homemade olive oil mayo and all salad dressings. On the road, I eat out and while I do attempt to avoid inflammation causing vegetable oils (soybean, canola, peanut, etc.), they are an inevitable part of my diet. I refuse to lose sleep over this.
Oh, and I work for a beer company and love beer. So you'll see beer and ciders. I've found if I avoid all other gluten, I don't have any real effects outside of some temporary bloat. I understand that beer is not paleo or primal, and can be a major problem for those who are more gluten sensitive.
That said, here's my most recent trip – a one nighter to Grand Rapids.
Had a nearly 3 hour layover at O'Hare. With exception of the time spent eating, I typically spend my airport time walking around the terminals, right up until boarding time. Podcasts and Pacing is how I put it.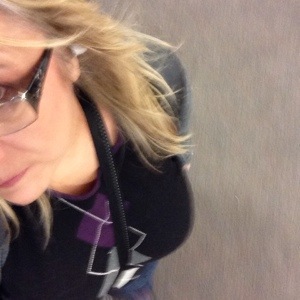 As my instagram followers saw, O'Hare is one of my least favorite airports to fly through – both for the number of cancelled flights I seem to get and for the general airport amenities and food options. For lunch here I went with a Gyro "sandwich " – telling them to skip the pita, and I added a side of veggies. Ate just the meat and a bit of the tzatzaki along with the veggies.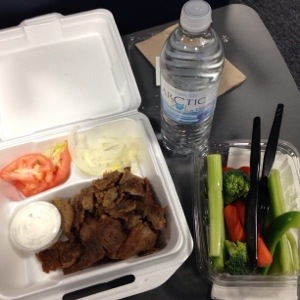 Meet up with co-workers for a pre dinner drink, and enjoyed a Crispin Cider. How nice that the lobby bar's blue glow matched the label.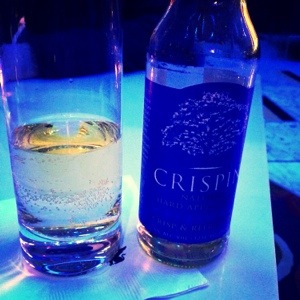 Dinner was a NY Strip with some veggies – asparagus, carrots and mushrooms. Skipped the starches and any alcohol, instead drank San Pellegrino.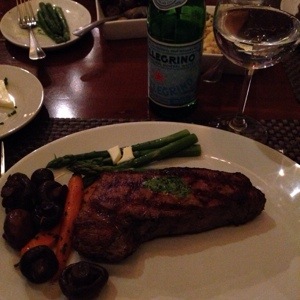 Back in the room, I ate the turn down "dream bar" along with an orange from the concierge lounge (forgot to shoot the orange). The turndown bar is the smaller version pictured below. This is JW Marriot's new specialty turndown item. I'm kinda meh on it. Has oats, chia, berries and dark chocolate. I'd so much rather just have a small square of dark chocolate.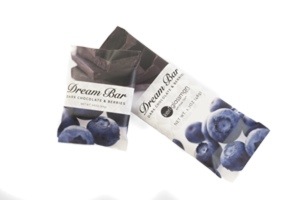 Some stats for the day…according to my Fitbit tracker, I'd walked 13,726 steps/6 miles and burned nearly 2900 calories on this day. I had done a 30 minute "Body Pump" workout in the morning, but that was only around 200 calories of that. Walking as much as possible in my day is important. Airports and airport wait times are great for this!
The following morning I had my typical concierge lounge breakfast. Scrambled eggs, bacon and some berries. My coffee had half and half.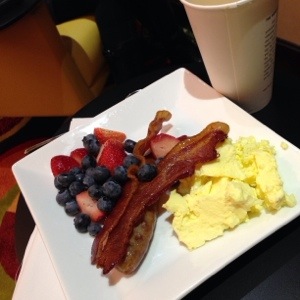 Lunch was with a client and the account team. I ordered the restaurant's chicken salad, and asked for it on greens versus a sandwich or wrap. Not olive oil mayo, but whatever.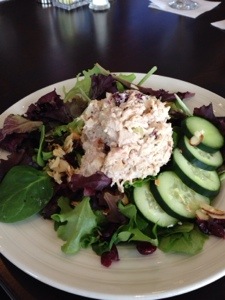 Late afternoon, early evening was back in an airport. This time a 2 1/2 layover in Cleveland. I like how they encourage travelers to walk. And walk I did, hitting all terminals at least once (A, B,C, and D) and a couple of them multiple times. I paced around my gate as boarding got close, but never did sit down, except while eating dinner. (Yes, I check my bag, just easier on the walking, but do wear a laptop backpack.)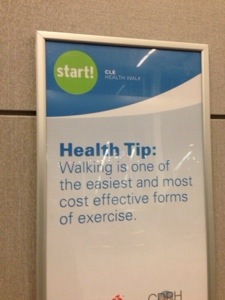 Dinner was at the airport's version of Chipotle/Qdoba. A bowl with double meat (pork and chicken), a small amount of white rice and black beans (yes, I know, not paleo) , lettuce, pico de gallo and hot salsa. Water to drink.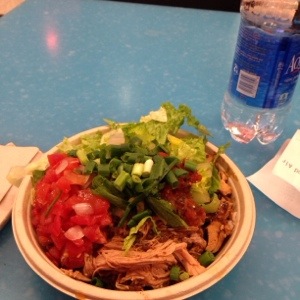 On my flights, I do not eat the peanuts, pretzels or other snacks. Thankfully, I'm not a real snacker. I always drink Club Soda as my beverage choice.
Fitbit stats for that day – despite sitting in 6 hours of meetings, 14,848 steps/ 6.49 miles walked, 2774 calories burned. Compare this to Monday which was an office day  6132 steps and 2249 calories burned. Airport walking. Do it!!!